Summer Group Tours
Rustic Vines has made a nice selection of different tours for you. From the Right Bank Saint-Emilion Region to the Left Bank Medoc Region, chose from Half Day tours to Full Day ones.
Rather you like to cycle and/or ride in our confortable minivans, book a tour and come enjoy the best wine tour ever.
HIGH SEASON: from April, 1st to October, 31st
Did you know that the commune of Saint Emilion was one of the most famous in the whole of the Bordeaux wine region for its exceptional vines and wines?
The medieval town center of Saint Emilion is a UNESCO World Heritage Site and attracts many visitors each year thanks to its architecture, streets, shops and the famous Saint Emilion vineyards.
Visiting the vineyards of Saint-Emilion is one of the activities to do if you want to discover the heritage and the beauty of Saint Emilion. 
In Saint Emilion, you will only find red wine. 
More than 5000 hectares are cultivated each year to produce these exceptional wines known under two names: Saint-Emilion and Saint-Emilion Grand Cru.
The richness of the Saint Emilion vineyards comes from the soils, the temperate microclimate and the exposure of the Saint Emilion vines. 
The wines of Saint Emilion can be powerful, refined or even concentrated. Everything will depend on the grape varieties used. 
Here are the 3 most used grape varieties in Saint Emilion: Merlot, Cabernet Franc and Cabernet Sauvignon.
The wines of Saint Emilion are classified in two levels:
"Grands Crus Classés"
"Premiers Grands Crus Classés"
Saint Emilion counts 64 Grands Crus Classés and 18 Premiers Grands Crus Classés
Join us to discover this exceptional village. We offer you the possibility to visit the vineyards by bike or by van. 
Our Saint Emilion Wine Tour includes many different wine tastings and a few facts to give you a better understanding of the region. 
Indulge in amazing picturesque sceneries, excellent wine, rich history and a French lunch* (with baguette!), all in the comfort of a small group with a knowledgeable and friendly guide. Because after all, there's no better way to learn about wine than by experience!
Ride in style through the world famous vineyards of the beautiful Bordeaux region on your way to Chateaux visits and delicious wine tastings ! Small group tours are for a maximum of 8 persons to create an intimate experience with our english-speaking expert guide who will accompany you throughout the day for a fun, relaxing tour. Discover all of our small group tours below !​
Visit The UNESCO Heritage Beauty
Join us on the famous road from Bordeaux through 'les vignobles du bordelais' as we showcase the best of the Merlot-strong right bank in an all encompassing tour of the breathtaking Saint Émilion region.
From €95 per person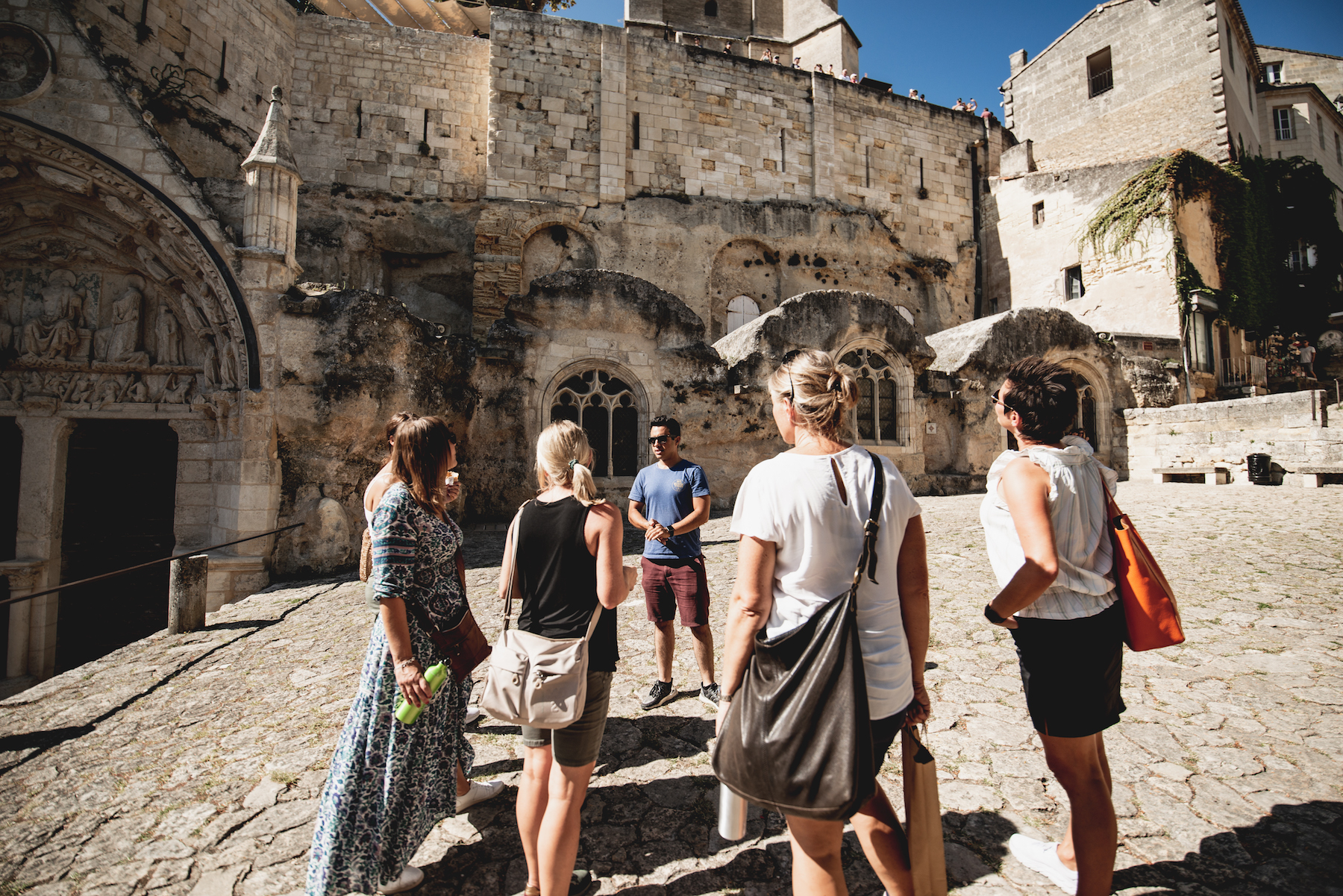 Discover Saint Émilion the most picturesque way possible, riding through the backroads surrounded by endless vineyards in the countryside ! Launched in 2017, our electric bike tours have become very popular so we recommend you to book further advance to not miss it !​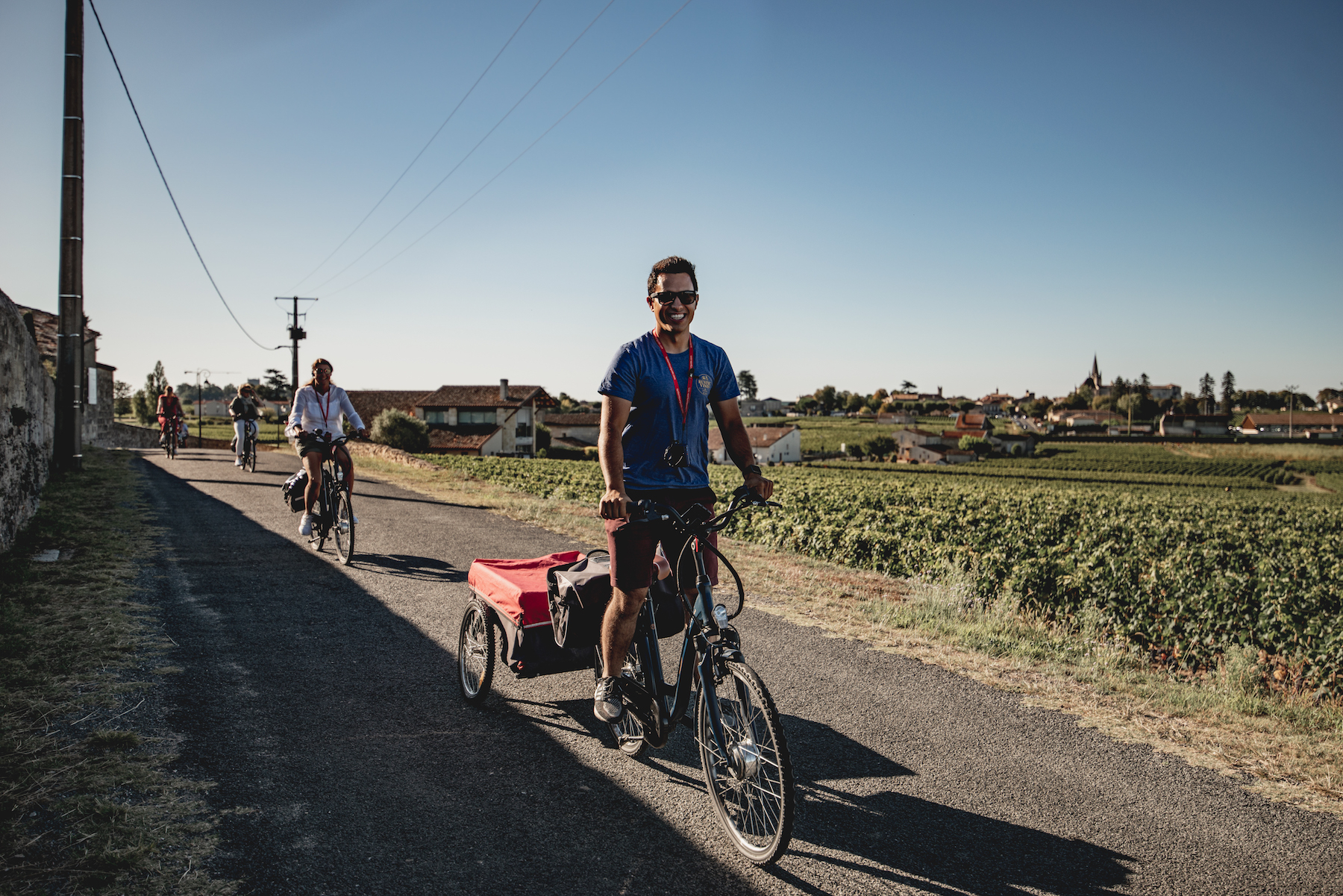 Electric Bike Full Day Tour
Ride Through Saint Emilion Wine Region
Rustic Vines invites you on a unique electric bike tour to Saint Émilion through the scenic UNESCO heritage region and some of the most famous vineyards in the world.
from €145 per person – available from April
"A really fabulous day out in the beautiful countryisde of Saint Emillion. Knowledgeable and fun host (Julia) a really great picnic and stunning scenery. The bikes make it so much easier (and so much fun!). highly recommend."
"Rustic Vines provided a fantastic day of wine tasting and chateaux visits to both Left & Right banks. Thomas was a very gracious and experienced guide. The small group size meant we got to ask as many questions as we wanted to and therefore learnt an awful lot. "
"Spent an amazing day riding bikes through the picturesque wine country of St. Emillion! Visiting the chateaus and tasting wonderful wine was one of the highlights only made better by our tour guide Alan."
best wine tours in Bordeaux...
Meet us in our agencies in Bordeaux & Saint-Emilion !