Writer: Sara Harley
Hello fellow wine lovers! Whether you are a wine expert, collector or someone who has a little or no knowledge of wine, here is a list of 6 things you might want to know about the iconic Bordeaux wine region and its amazing viticultural traditions.
A great opportunity to impress and do something with your friends and family, or even better… treat yourself, to discover and taste … the uniqueness of this region wine once the lockdown is over!
1. The vineyards area are divided into 3 sections
I bet you didn't know that right?
Bordeaux is located in the South-West region of France, and it's also where the Gironde estuary –
the biggest estuary in Europe – splits into two rivers as you can see on the map below.
The Garonne River, located towards the South, crosses the city centre of Bordeaux whereas the
Dordogne River runs towards the North.
So Left-Bank is what we call the region located on the left side of the Gironde estuary and
the Garonne River. As you can then guess, the region located on the right side
of the Gironde estuary and the Dordogne River is therefore : Right-Bank.
Easy peasy!
The area between the two rivers is called Entre-Deux-Mers, more commonly known in English as : Between-Two-Seas.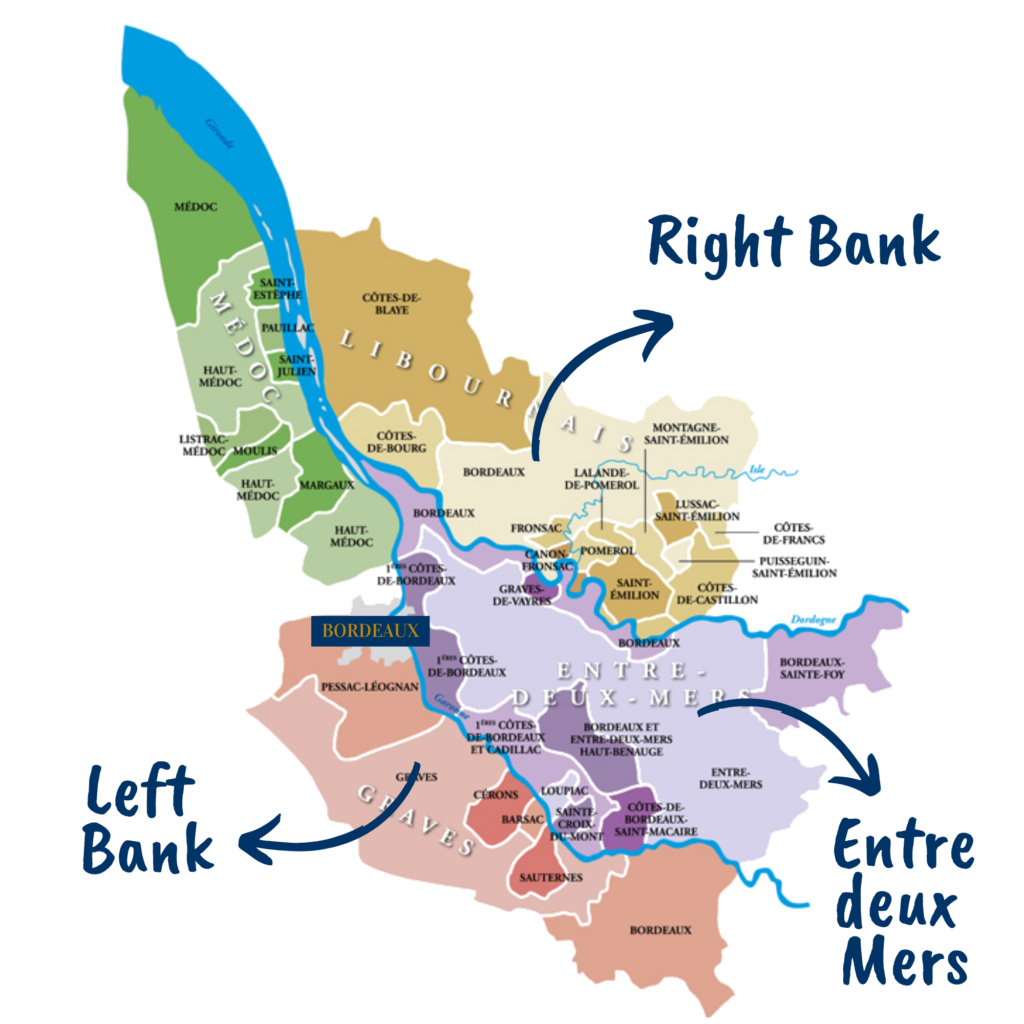 2. Appellation rather than Grape Varieties
Some of you might wonder what does appellation or AOC (Appellation d'Origine Contrôlée) mean.
The initial creation of the Bordeaux appellation system began taking place in 1936. The purpose of
the AOC system, (Appellation d'Origine Controlee) which is used for food and other agricultural products makes very good sense. The purpose behind the AOC
system is simple.
When a product comes from one specific area, it's the uniqueness of the place due, to its terroir
that gives the wine or other agricultural product its special character, style and identity. An appellation is a legally defined and protected area.
In Bordeaux there are more or less 64 different appellations that are planted on a wide variety of different soils and terroir. They represent a limited region (Saint-Emilion, Margaux, Pauillac etc.) where there are strict rules for wine production that must be followed by the winemaker.
We choose to use Appellation rather than Grape varieties due to the uniqueness of the Gironde area. The wine producers of Bordeaux, first and foremost, want people to understand the
uniqueness and individuality of this regions wine.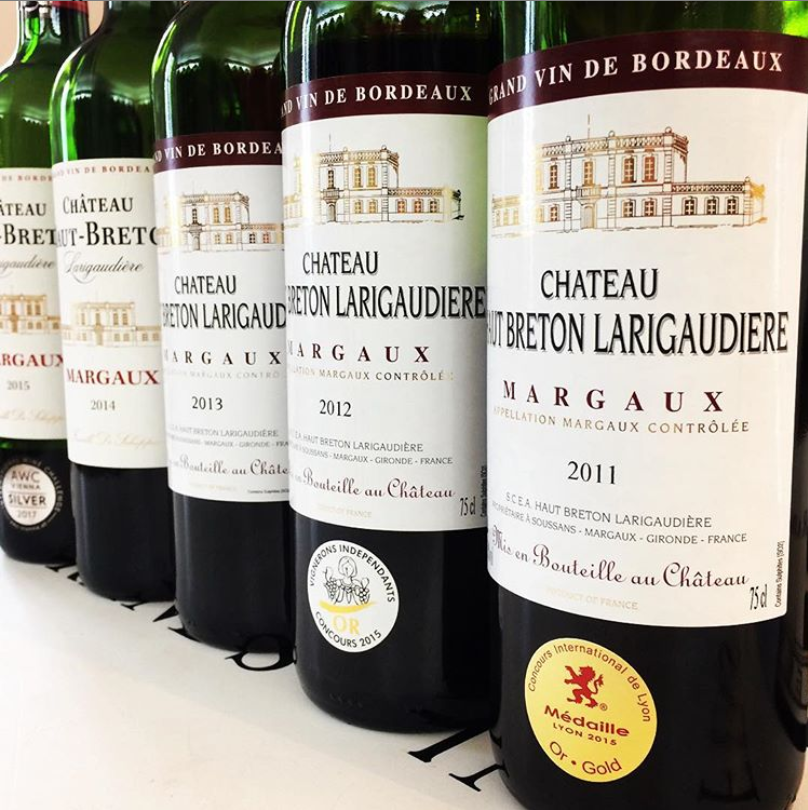 3. One word to describe it…. UNIQUE
Each wine region of France has its own particularities and traditional methods, which makes the wine so special everywhere you go. If you get the chance to travel to the variety of wine regions in France, have a look at the shape of the bottles: they change depending on the region! Their reason : sometimes it has reference to French history but most often it's down to the shapes practicality.
In Bordeaux, there are several different grape varieties offered in the region, as a result, we mix and blend these grapes varieties together. In comparison to Burgundy for example, where they produce wine from only one single grape variety.
It's the same story when looking at the wine colour, it's also very different from region to region. Where Bordeaux wines are red, Burgundy wines get closer to a red ruby. Also the style of wine changes per region, some regions will produce fine, elegant wines, whereas Bordeaux produces are more complex, powerful and sometimes tannic wines. Come and see for yourself and compare the difference!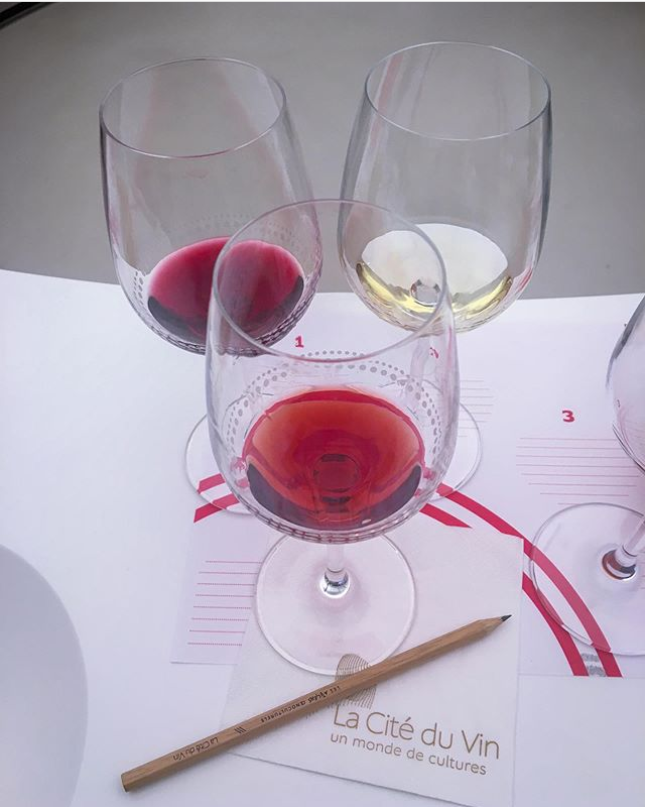 4. Do you know how many main red grapes varieties are found in Bordeaux?
You will find three main red grape varieties in this region: Cabernet Sauvignon, which also happens
to be the most popular grape variety in the world. Merlot, a fruity flavoured wine  and lastly Cabernet Franc.
In some Bordeaux regions it's possible to find Malbec, in small quantities. This is very famous in Argentina.
From the Left-Bank to the Right-Bank, you have to opportunity to discover and compare two different Bordeaux style and blends.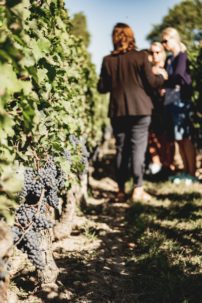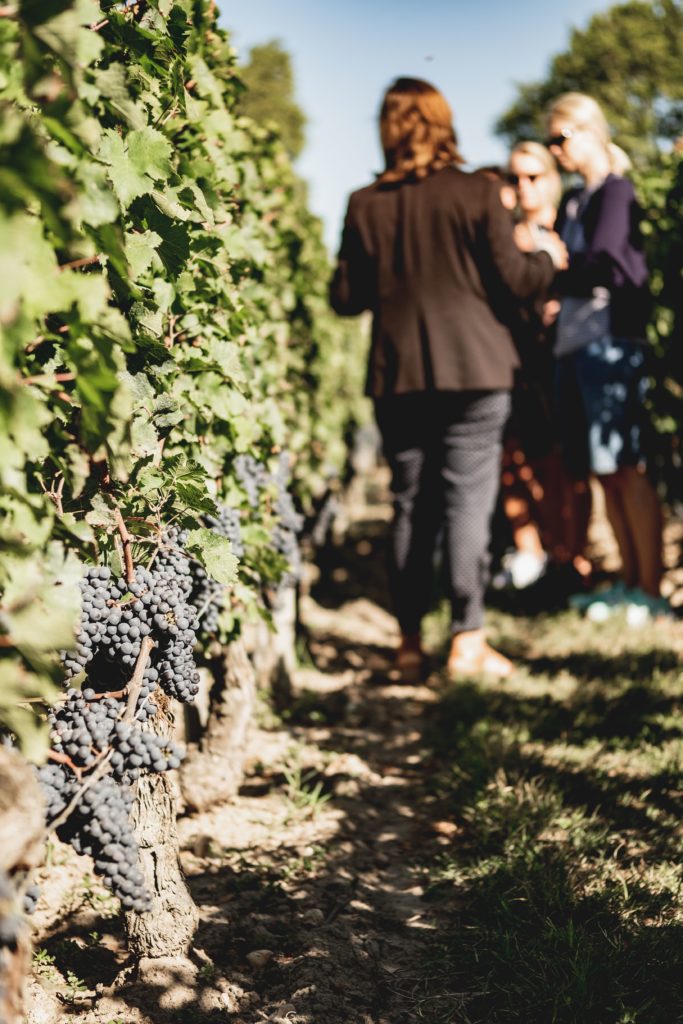 5. Vintages which use a 0 to 5 grading system, are known to be the best in Bordeaux
Here is a good tip to remember when buying wine from this region:
When looking to buy a/some bottle/s to take back home! Since 1990, every five years produces
an excellent wine vintage for all 3 wine groups: red, white and rosé.
This is a pure coincidence.
A good vintage or a good year simple happens when all the best growing conditions coincide to
create a well balanced wine: good weather, good temperature, low disease impact through
the year.
Of course, prices are little bit higher for these amazing vintage bottles but the taste is worth it
guys! Just keep them in your cellar and in a cool area to save them for a special occasion. The best part: they get better with age!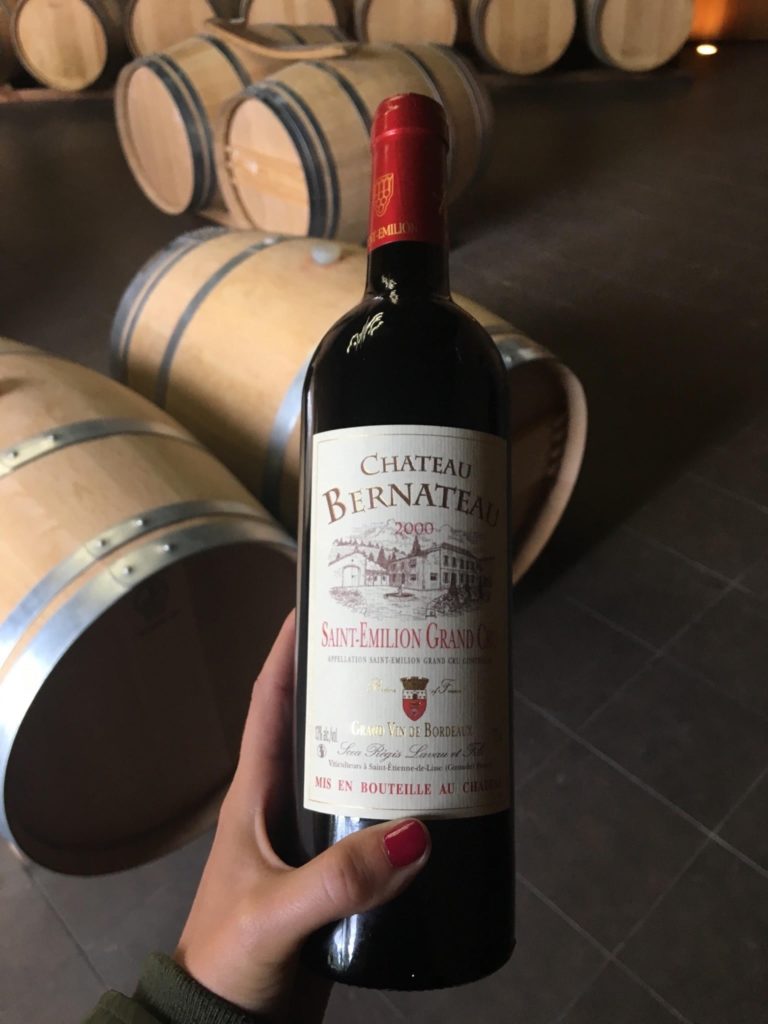 6. Perfect winery location, here is where one of the world's most expensive bottles of wine is produced!
It's the wine that was served at Queen Elisabeth II's wedding, it was also the Kennedy family's
favourite wine… Can you guess what its name?
Château Petrus.
The starting cost for a bottle is around 2000€ and the price can increase according to the quality of
the vintage produced. This property is located in Pomerol Appellation, on  the Right-Bank of Bordeaux (the neighbour of the Saint-Emilion Appellation). Some people say Pomerol is the land of the expensive wines. Well, we don't agree, as in Pomerol they do offer very
affordable wines that are still very good quality!
Are you interested in learning more about Bordeaux's wonderful wines and visiting the regional vineyards? Buy a Voucher during lockdown and get 20% off on all our tours, there's no time-limitation either! Why not visit an exciting, new destination when you for your next trip or day out after such a crazy, long but necessary lockdown.
Stay safe everyone! Cheers and hopefully see you soon.